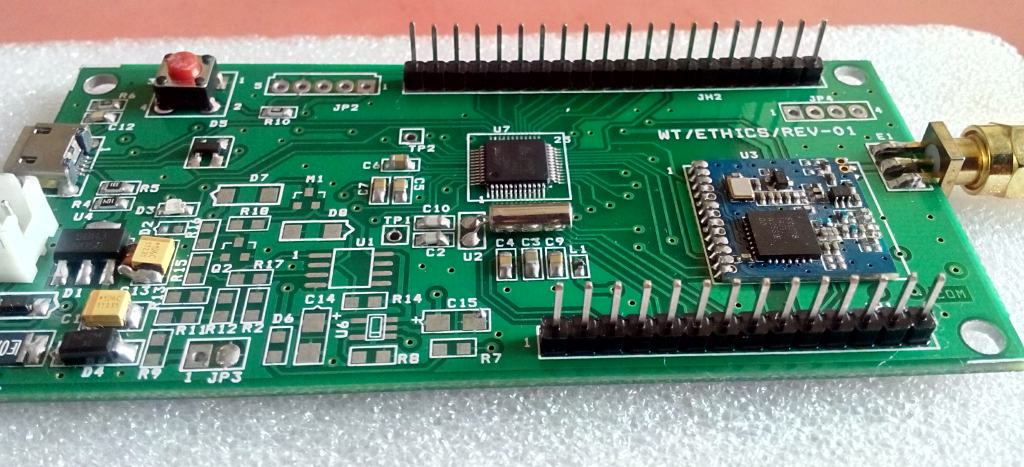 Ethicstech Embedded Solutions Pvt Ltd launches India's first, low cost LoRa Development kit with the following specifications. The board come-up with 433Mhz, 868Mhz & 915Mhz as per your request. Please note that each country selected their preferable frequency standard. In India, the license fre frequency is between 865.0 to 867.0Mhz. We recommend to use 433Mhz/868Mhz for learning purpose.
We named it as Sakshi Series since she won an Olympic medal at Rio for India.
Hardware specification
ATSAMD21G18 @ 48MHz with 3.3V logic/power

3.3V regulator with 500mA peak current output

USB native support, comes with USB bootloader and serial port debugging

You also get tons of pins - 20 GPIO pins

Hardware Serial, hardware I2C, hardware SPI support

8 x PWM pins

10 x analog inputs

1 x analog output

Built in 100mA lipoly charger with charging status indicator LED

Power/enable pin

Reset button

Simple wire antenna or spot for uFL connector
NOTE : You need to buy battery separately.
LoRa Module Specification
(G)FSK/4(G)FSK/LoRa Modulation

434/868/915Mhz transceiver [NOTE : License Free frequency in India is b/w 865.0 to 867.0 Mhz]

20dBm output power

-139dBm sensitivity

Standard SPI interface

127dB dynamic Range RSSI

Automatic RF sense and CAD monitor

Data Rate: <300 kbps

Standby current: <1uA

Supply voltage: 1.8~3.6V
Add-on modules
Accelerometer

Humidity sensor

Temperature sensor

Soil Moisture sensor

GPS sensor

Weather sensor and more
NOTE : You need to buy the above sensors separately.
IOT Cloud software
You can interface with any freely available cloud IOT platform like The Things Network.

We also offer a dedicated, unlimited IOT cloud platform as a separate IOT platform kit. Please contact us for more details.
LoRa Gateway
We will offer* Single channel LoRa gateway for demo purpose to test your LoRa node.

We have LoRa single channel gateway as separate product with us. You can buy it and setup your own gateway hardware.
* - Only at specific location with terms & conditions. We are installing our LoRa Gateway in major cities for learning purpose.
* - Above picture is only for illustration purposes
Preorder accepted
Price : Rs.3000/- including Tax. FREE shipping all over India.
Contact us if you are planing to purchase more than one kit.

Buyers from Outside India : Price : 30USD including Tax. Shipping to any other country: 50USD for upto 10 boards.
Cancellation
Please send your cancellation request to This email address is being protected from spambots. You need JavaScript enabled to view it.
Watch this page for more updates including tutorials, source codes,examples,.etc.
Save
Save
Save
Save
Save
Save
Save
Save
Save